Hail to the Chief!
RIP the Chief Grouser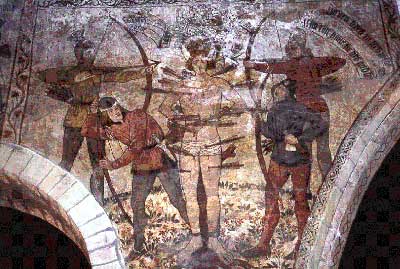 Five years ago Sean O'Callaghan, the Taiosach of Grouser's Corner, passed away. He had sat watching his beloved Bohemians for many years (bet he enjoyed the night in 1984 when they beat Rangers, Dave McPherson and all), tempering his love with an informed acid commentary to what he saw pass in front of him, life and football, football and life.
Then in July 1998, Sean O'Callaghan's persona undertook a magical transfiguration something akin to the Panchen Lama, as one man sat in Grouser's Corner in a dump of a football ground situated in one of the more agricultural locations of Dublin unaware that the mantle of the Chief Grouser was being cloaked around him. His was a mission to enlighten the dark recesses of the Hearts mindset and also to throw shadows on the lightness of the happy ship of fools we all were sailing in after the Scottish Cup win. (Why, some of us even thought it was the start of something big! How mighty wrong we were.) The Fourth Incarnation of the Chief Grouser was upon us, 60 days after the Rapture. To date it exactly, in the sports pages of the Irish Independent was the following:
Today's Football:
Bohemians v Hearts (3 pm)
France v Brazil (7 pm)

Marvellous.

For five years since, the Chief Grouser has spoken in tongues, babbling incoherently, reciting mantras, usually following several hours worshipping at the Golden Rule. His voice has been the median line drawn after mixing carefully-considered opinion mixed with ill-considered shouting by the idiot-savant Hughes, the horned-masked Goldie, the buffalo god Allan, the dust-jacketed Herbertson. Other voices have been heard in the Paisley and Glenrothes wilderness. But now five years on, having spoken truth upon truth, it is time for the Chief Grouser to retire the jersey.
It's been an amazing five years. From the dizzying heights of Cup success and the astonishing season that preceded it, Hearts have undergone such a test of fire and water and have proved themselves true. Vraye Foi, True Faith. I wish I could say the same of some fans but we're a funny bunch who show how much we care by booing our team and its players. Perhaps it's good to be so critical, it keeps everyone on their toes. Perhaps those guys who stood outside Chris Robinson's Balerno house a couple of years back and allowed the Evening News to take their picture have gone now. Perhaps all those red cards held up at half-time while Robinson was inside enjoying a cup of tea have been binned. Everyone has the right to be critical, but a lot of observations made and actions taken were stupid. They were destructive and damaging to the club, rather than simply wrong. The glinting-eyed media will sniff blood at a dozen paces and twist any fact to turn brother against brother. So we shouldn't oblige them. Kickback was (and still is) a living testament to this, as every month a poll was being posted Should Levein Be Sacked when there wasn't the remotest chance of it happening, even if we'd lost ten-nil to Falkirk. So if someone posts a load of shite on a message board, why should anyone respect anything else they say ever again? There are a lot of worthy contributors to Kickback and it's a pleasure to read sincerely-held and well-worked opinions, as well as those with humour and wit. In a pub or on the terraces or in the street you can open your mouth and say what you like because the world isn't listening to you. But people need to give plenty consideration before putting themselves in print because that's a public arena, and more damaging for yer idiot with an opinion, it's on record and will not be stricken from the record. It will be used against you as evidence you're an idiot.
For this reason no knees jerk in Grouser's Corner. The Chief Grouser considers the world through a wide-angled lens, shot through a prism, and if anyone cares to read back through the five-year archive they will not find much that was proved wrong. However, the crystal is clouding, and it's difficult to see or say where Hearts are going now. We have journeyed and arrived, and the landscape isn't familiar. On the one hand it's easy to believe that a judicious blend of homegrown youth and bought-in experience will serve us well over the next season or three, especially as other teams seem to be floundering. On the other, as we well know, it's very difficult to follow one good season with another, and no wins in the first five games, injury to Stamp and de Vries and a naive early exit from Europe could throw away impetus and goodwill. If Hibs get off to a lively start, Hearts fans will lose their cool, their impatience will manifest itself and every lesson learned this season will be soon forgotten. We're here for the long term – that's what being a football fan is, and nothing made me laugh longer and louder than Hibs fans suggesting they should retire the No 4 jersey as a tribute to the best player ever to play for Hibs (*that they'd ever seen, that is). We live in an appalling world where latest is greatest, that the Radiohead LP is voted Best Ever LP Ever, (something by Aphex Twin was Number 18, by the way!!) and hopefully the real lesson about the last five years – triumph followed by humiliation and now redemption – is that five years is a very long time indeed. Hopefully we're all better pilgrims for that journey.
So it's tempting to see our young players taking Hearts onwards and upwards. Hamill and Janczyk love strolling around with the football at their feet, while Simmonds, Sloan, McMullen, King, Weir, Gordon, and a few others I've not seen have some genuine talent which will be given a chance to make a mark in Scottish football - especially as they're likely to be up against a lot of other clubs' youngsters. Nothing can be done without wiser heads, though, and in MacFarlane and Pressley and McCann we have steady players who don't panic. The third essential ingredient is class, and in differing degrees Stamp, Valois and de Vries (class isn't usually Scottish) have provided that extra something that brings out the best in those around them. Wyness and Hartley have proved they can cut it – the question is how sharp. Neither seems injury-prone, which is important. Hearts have lacked bite and street-smartness up front for a while, and if Hartley has retained his speed we might have another box-to-box midfielder. Whatever, both CAN play football, and both will be hungry to establish themselves. Hearts – literally – can't afford passengers who don't pay their fare.
Craig Levein has a style of management which would not currently serve him well at other clubs. He laid out his plan to get rid of older players who would get in his way (some quicker than others – Thomas Flogel's high reputation amongst Hearts fans is based on his loyalty and attitude on the way down as much as his Cup-winning exploits), while developing the fruits of a youth policy already established. Levein has cast his spell over all of the players because they want to do it for him. And why? Because he is doing it for them. Under Levein players are playing the football they know they can. Perhaps it is because he is still young and understands young people, or he is still a player at heart and understands players. Let's face it, if you were 17 would you do what Jimmy Calderwood tells you to? That silly old man who looks like Wim Jansen's auntie? Levein has won the players over to him by getting the men he wants playing in the positions they want. If things go wrong, he tells them it was his fault, not theirs. Most football players can actually play really well: the trick is to get them to do it on the pitch with 10,000 people watching. Levein has got them all, younger and older players alike, to relax and focus on what they can do - and then they do it. As a team, Hearts have been second to none this year, not even Celtic, whose teamwork makes up for a lot of individual failings. Those late late goals tell the story (and they tell how fit the team is, as well) and there's no reason not to believe Hearts can't continue to believe in themselves and score those late goals. A few more in the first half would be welcome, though.
So it may be that during the pre-season tour that the person sitting in row 9 seat 24 of some potato field outside Ballymena will start mumbling Tibetian chants, jigging Native American dances, and end up doing the Haka. This is either the fifth incarnation of the Chief Grouser, or it's our best friend Bryan Smith over there giving it some laldy.