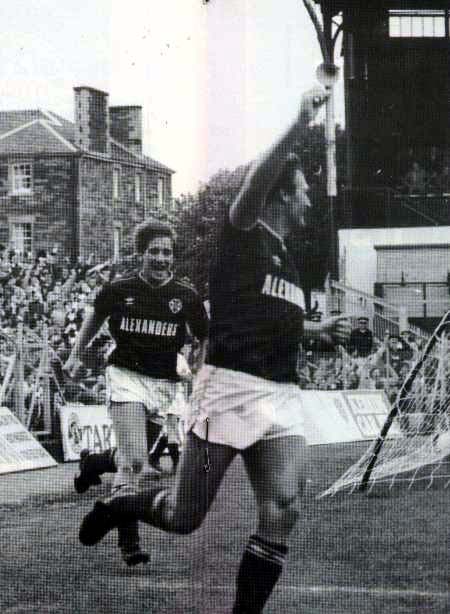 I don't know who hasn't read Only A Game? by Eamon Dunphy, the best book about football (sullied only by the testimonial from Nick Hornby on the front and back covers of the most recent edition) but there are big lessons to be learned from it. Number One Lesson is that simply because Nick Hornby likes it doesn't automatically disqualify it from being any good.   It's a widely-known fact that Nick Hornby knows nothing about football but everything about Nick Hornby.  Number Two Lesson comes on Page 77 of the 1986 edition when it talks of about how some teams work harder to overcome failure and others don't, and how much players want to win, how much some players hate to lose.  And about those for whom "lack of success is something of a relief, that they can settle down to mediocrity………It is the way you react to defeat, or to the signs of failure when they come, that determines everything,"   
<![if !supportEmptyParas]> <![endif]>
So having made the players feel good about themselves and to have lost to no-one but Celtic and Rangers since the midwinter break (and calling some players 'Thieves' after the defeat by Aberdeen – yesss!) Craig Levein now has to start showing his teeth.  He needs to get some commitment from all his players and instil in them the sense of playing as a team with a common cause:  not just a team that plays to its potential (and wouldn't that be an achievement in itself), but one that HATES to lose when it's not playing well. 
<![if !supportEmptyParas]> <![endif]>
This isn't made easier by the lack of a decent centre-forward and the unavailability of first-choice players (Pressley and Kirk were out injured and Flogel's still suspended apparently), while the number of stoppages, injuries and substitutions certainly didn't help Hearts' rhythm against an inept Aberdeen side which realised that by lying very still and pretending to be dead they might just about blag a draw out of the game.   Fortunately Hearts had just enough class to score a great goal, threaten a couple more and have enough passing ability to keep possession, but it was pretty miserable throughout.
<![if !supportEmptyParas]> <![endif]>
After last week's defensive nightmare Levein reverted to a safer 4-4-2 (though a full-strength Hearts could easily play 3-5-2 against such a poor side as Aberdeen) but Pressley's absence forced Levein to pair Webster and Severin together as central defenders and put McKenna at right back, where he was competent enough but couldn't exert any influence on his younger colleagues, either of whom would have played a lot better with an older head alongside them.  McKenna's withdrawal early in the second half with a head knock was another blow so it would be a mistake to condemn such a makeshift defence, but at times during the second half Hearts played some quite stupid football.  There is nothing wrong with being 1-0 up and playing the ball around at the back in order to manoeuvre better openings, but if there is no-one making runs from midfield, or if there is no-one up front going down the lines then you're going to get in trouble and Webster in particular got in a fankle.   Normally he's positive and aggressive, but he became uncertain and his inexperience was exposed.   He was actually trying to take responsibility and play cleverly rather than playing safe, which is commendable for such a young player and bodes well for the future,  but it didn't work not least because most of those further upfield stood around doing very little, so the number of options open to him were extremely limited.   Severin was wholehearted but not comfortable: if he's part of the Hearts team's future, it's got to be as a midfield anchor.  Defending too deep was one of the problems – though you've no choice when you're as slow as Severin is - and rarely did Hearts step the game up and look more impressive.  For all that the midfield played some neat and tidy stuff and occasionally looked dangerous, they were guilty of shirking responsibility by not taking the game by the throat. 
<![if !supportEmptyParas]> <![endif]>
Nothing's happening up front, though, so that means less is happening in midfield.   Juanjo made enough of an impact in ten minutes to suggest his mobility could at least give the opposition something to be nervous about, and in general Hearts don't seem to be posing the opposition enough questions.   Am I entirely nuts, or is it simply giving up the initiative when all eleven are back to defend a corner?  Aberdeen had the novel idea of running round in circles like the Injuns at the Little Big Horn as they took their corners, hoping this would make them more difficult to mark.  Hearts were at least resolute and the tactic didn't work, but sticking a couple of our guys on the halfway line would have thrown that routine out the window straight away.  It was hard enough trying to work the ball up to the front men with Aberdeen sitting back, so when the opportunity was there to counterattack it seemed a pity no-one was there to exploit it.
<![if !supportEmptyParas]> <![endif]>
This unwillingness to stick the knife in, even if the knife's a bit blunt with our current so-called strike force is a major worry.   Boyack, Tomaschek and Fulton keep blowing hot and cold, and there simply doesn't seem to be the bite or hunger required.  Too many players are standing around hoping someone else has got the shovel to dig them out of the hole.  What if Aberdeen had nicked a goal?   Is it not an affront to professional pride to let mugs like that get a draw?  Did Hearts step on to the pitch, thinking 3 Points Today!!  or did they look around and wonder what the next 90 minutes would bring?  Hearts have got talented players who can shape games, but while they've stopped looking at the dugout with a certain amount of fear they need to start looking at themselves and asking themselves these questions.  I hope Levein's got the necessary steel to demand more.
<![if !supportEmptyParas]> <![endif]>
It looks as though the usual each-way suspects – Dundee, Kilmarnock, Hibs – are all much of a muchness, so let's not get an inferiority complex. Dundee's defence is rubbish, Hibs haven't found any cohesion and Killie only play well against flakey Embra teams.   Whatever we do, we mustn't give those sides too much respect, we mustn't play it safe. Hearts play best when we play fast.  The best side in the League (Celtic) are the most aggressive side, and the team on top of the League (Dunfermline) are silver medallists.   This League rewards aggression, passion and pride, and that comes from confidence in your own formation and style. And that's what this Hearts side hasn't yet acquired.  Are we prepared to battle?
<![if !supportEmptyParas]> <![endif]>
As for centre forward…  we need Jimmy Bone.