An Evening of Serendipity as the reunion of the Legendary Viva Hearts Supporters Club has prompted Ver Grouser  to explain why it's important to keep things in perspective…
<![if !vml]>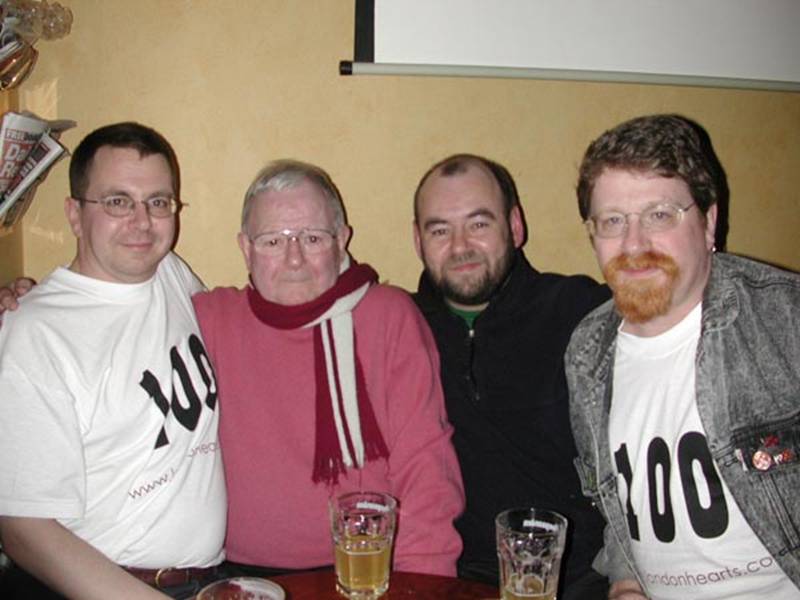 <![endif]>
"The other Saturday Man U battered Middlesbrough but lost 1-0.   "We didn't deserve to win," said Sir Torn-Faced Grudgeholder after the game.   Meanwhile, in another part of the forest, Hearts were losing to St Johnstone by three goals to one.    Now read on…".
Hopefully visitors to Grouser's Corner will know by now that what is seen, heard and read in and on the media isn't to be admitted as evidence in court.   Man U had a dozen chances during the 90 minutes, any of which might have gone in.   Had Giggs equalised after 15 minutes, I severely doubt it would have finished 1-1 and Ol' Alex would not have been saying Ach,         We Didnae Deserve To Win.   Facts of the game are that Middlesbrough snatched a goal, showed plenty of guts throughout but United could have swallowed them up if the chances had been converted to goals.    When people say it's all about taking your chances, they're not kidding.   Arsenal were already a goal down and being ripped to pieces by some hot European outfit a few years ago and some Wise Man on the radio said  "At some point in this game Arsenal will have a good ten minutes.  It might only be ten minutes, but that's the time they have to score."  Now, it's obvious what happened, otherwise I wouldn't be telling you this story.   Arsenal kept it to 0-1, and eventually the other team started to doubt their own ability to convert their superiority into a second goal.  On 70 minutes, Arsenal got a chance, and Grimandi or someone equally unlikely got into the box and did his stuff.   The game finished 1-1.
What's your point, caller?    Ah, simple.  Forget Hearts were playing the team at the bottom of the league, forget how rubbish we were throughout.   This caller's point is that had Fuller scored with the 51st-minute penalty to make it 3-2, I would have taken a fat bet that Hearts would get back to 3-3, and thereafter the only team to score a fourth would have been the one wearing maroon.   Once the penalty was missed, our ten-minute period of grace had come to a premature end, and everyone knew it.   Had St Johnston lost two goals in three minutes, they would have known the script had been written and would have followed it.   Sure, Hearts might not have won, but Hearts would not have lost. 
Okay, you with me so far?   I have not commented on Hearts' performance.   I am simply saying that a team can play amazingly badly and still come away with the points; and as long as you only play badly for three goals, getting four back isn't impossible.   It's been done (the history of football is littered with teams winning 3-2 having been 2-0 down, and 1-5 once became 6-5, but that's not important right now) and had Fuller scored instead of missing by a mile, Hearts could and probably would have won, and we wouldn't now be too bothered by all the dreadful stuff that got us into the mess in the first place.   No-one would be fooled - but Levein has enjoyed great good luck on some occasions, and a lucky team is always doing something right.  If the games against Motherwell and Hibs had ended in draws no-one would have blinked, and whilst you always suspect that a team which scores late, late goals deserves its luck you shouldn't be too surprised when the good-luck well runs dry.   So if you've kept your mouth shut when things have gone our way (say, against Dunfermline a couple of times, and against Killie and Hibs if you like) then opening it when the luck's been against us (like against Dundee U the other week – if Fulton had equalised everyone would have gone home feeling like they'd seen a decent game of football with just about the right result, and against St Johnstone when Pressley would surely have scored the penalty had he not gone off injured) is a little disingenuous (sarky word for two-faced).   Don't get me wrong, I'm not pretending that the St J show was anything but GASH, and everyone's entitled to shout the odds, but don't expect anyone to take any notice of what you're saying.   Some games you're lucky, some games you're not.  Some you win, some you lose.  In the Daily Record Book of Scottish Football 1972,                Pat Stanton wrote:  "I wish I could be on the winning side every week, but that's a dream."              Too right, Pat.   Keep dreaming.