<![if !vml]>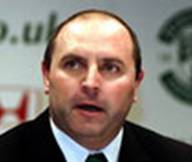 <![endif]>      turmoil
The Wreck of the SS Bobby Williamson
Back to Chief Grouser
It's a tricky one.   Hearts have managed to conjure unlikely wins
and draws throughout the season.       Are we any good, or are we
simply getting away with it?       I don't know whether we should
be worried that kind of luck we've been enjoying cannot hold forever, or whether Craig Levein really HAS got the attitude right and it's a legitimate factor to rely on in the long run.    Are we making that luck, and the amount of luck we will get is solely dependent on us continuing to make it?     It might have been Ben Hogan, one of the five greatest golfers ever, who said  "Funny, ain't it?   The more I practice, the luckier I get."
Yesterday Hearts beat Kilmarnock out of sight in the end.     It would have been nice to add a couple more goals: people looking at newspaper results really pick up on the number 5.   And that would have humiliated Kilmarnock publicly and perhaps dealt a nice crushing blow to their hopes of overtaking us in the League;  whereas only 10,000 witnessed their shame, so they may recover.   And at this absolute precise moment, there is nothing more important to Heart of Midlothian than finishing third this year.    Last Tuesday at Hampden the players stood around like tourists from Shropshire at the London Planetarium, wondering what it was all about.          Only Phil Stamp knew, having played in an FA Cup Final.    Should Hearts manage to secure a UEFA Cup spot, and perhaps negotiate their way past AFC Alderney or Rockall Rovers, invaluable experience will be gained if we draw Stuttgart as we did in 2000 or Athens as Hibs did a year later.   Winning those games would be magnificent, but the widening of eyes and broadening of experience can only help those players when we play Rangers in the next Cup semi-final.        We'll know better what big games are about then, and might even consider trying to win one.    
It's not so far-fetched to talk of future Cup semi-finals.    The rest of Scotland is starting to say Hearts are the third-best team, so why not believe it?    It's true.   For a while we suspected we had the third-best eleven, but not the third-best squad,  and absence and injury hampered us earlier in the season.    As a consequence the players were still uncertain of their roles, morale was suspect with external criticism of the board, manager, team.    Since then things have happened and everything's firmed up somewhat.    Not that the criticism has stopped, but there's no doubt of it: no team can lose 6 goals to 1 and come out to win their next three games without there being a certainty of purpose, a refusal to be deflected from the long-term aim, a sense of belief.   22 points out of the last 27 tells its own story.   Meantime Chris Robinson, God bless him, has shut up and garnered a good press from all concerned.  Craig Levein, as this website has consistently averred, has been hugely successful in trying to keep pressure off his players, young and old, in order to encourage them to relax on the park and play their best football.    Obviously the respective defeats in the Cups need attention, but there were different reasons for both, and Levein has acknowledged that next time round – against a powerful First Division side, or in a high-profile semi-final – his team wouldn't be so poor.    Levein is still learning, but if you are good enough to make your mistakes at a higher level without disastrous consequences, then you'll learn all the quicker.   The Fat Bloab across the way is too old and disconnected to inspire anyone, and a picture in the Sunday papers showed Jim Jefferies 'exhorting'  his team to something-or-other, while in the background Levein was watching – not arms folded Sauzee-style, but guiding, trying to help, advising.   Levein paid tribute to Steven Pressley, possibly one of the most influential players in Hearts' history, calling him 'my man on the park', because Levein's playing career is recent enough for him to remember that players can't hear a word a manager shouts at them.   "Manager always think players are just blanking them," he grinned.  "Truth is, we didn't even know they were screaming at us."   
Players have come good for Levein: not brilliant, just good.   Neil McFarlane has been doing a similar water-carrier's  job to Gronlund, except a lot more vertically.   It's  simplistic football, but it's also simple football and the fact that he's become one of Hearts' most valuable components tells you that Scottish football isn't very good at the moment.   He makes himself available for a pass, from defence, from midfield, from attack.   He doesn't do anything more than that.   And that's invaluable, because possession is everything.   His presence has given Levein the option to play Stamp wide on the right, where he has more space and a freer role – and he might not be booked so often out there – as he and Severin seemed to be pearls from the same clam, and so often inhibited the other from attacking (is it my turn or your turn?);  and the return to width has equally brought a return to attacking football.    Equally, for the moment Levein is wanting to develop the Pressley-Webster partnership, which means that McKenna can come off the bench at any time to do any job – or even start the game up front if that's what's preferable.  So the dugout is now laden with first-team players left out, rather than juniors and makeweights, and players can genuinely interchange for tactical reasons or injury, rather than fit a square peg in a round hole as was the case earlier this season.  
Gary Wales's reintroduction has helped balance the side.    He is by far and away our most mobile forward, and he is a far better foil for de Vries who prefers to stand around and wait for something to happen.    Wales is making those runs that Andy Kirk used to and Graham Weir isn't designed for, and by going wide he leaves room for the midfield to get forward.    He never complains and never gives up, and having pointed out his deficiencies before it's a pleasure to point out his strengths now.    From somewhere he got the confidence to impersonate Michael Mols and spin-and-drag past two open-mouthed Kilmarnock thugs, but there the resemblance ended and he hit the ball straight at the keeper; a worthy contender for Not-Goal-of-the-Season alongside Stampy's outrageous shot off the bar against Dunfermline the week before.    The man in the goals is Alan Maybury, who may (I stress may) have been told by Levein that since he's not safe to have near our goal, would he like to spend more time in the opponents' half and try and reclaim a few of the goals he's given away in the past?    He seems to be thriving on the opportunity to go  forward: when he does things right, he does them very right indeed.  
But football is laced with luck, good and bad.   Had Phil Stamp equalised, or had Willie Young given a free kick to Graham Weir instead of Falkirk romping away with the ball and making it  2-0, well – it might have finished 4-1 to them, or we might have settled down, Falkirk might have lost their impetus, it could have finished an attritional draw, or McKenna could have turned his otherwise dreadful performance on its head by glancing in a late winner.   Don't mock – I've seen it happen before, to Hearts and against Hearts.   So the ten-pass piss-take of Killie yesterday was wonderful to behold, and bespeaks a confidence undreamt of at the season's dawn, but quite frankly, Killie had the two best chances to take the lead in the first half, and fluffed them both.   Had they scored, I doubt we would have been playing keep-ball an hour later.   We have the ability to win the game from there, but the confidence?   As the opening sentence of this little pile of guff intimated, Hearts are living on their luck at the minute.    But so long has this luck been with us that it's now tempting to believe we're making it and therefore we deserve it.   And the proof of this particular pudding is that others are beginning to believe it, too.