THE SCOTSMAN, Monday 24th October, 1959
---
Scottish League Cup Final
The goalkeepers made the match
Hearts know the value of teamwork
BY OUR FOOTBALL CORRESPONDENT
Heart of Midlothian 2, Third Lanark 1
The contrasting performances of Robertson and Marshall, whose physical heights proved no reliable indication of their comparative stature as goalkeepers, prevented Saturday's League Cup Final from being reduced to an exhibition of the skills that have given Heart of Midlothian the unquestionable right to keep the trophy for another year.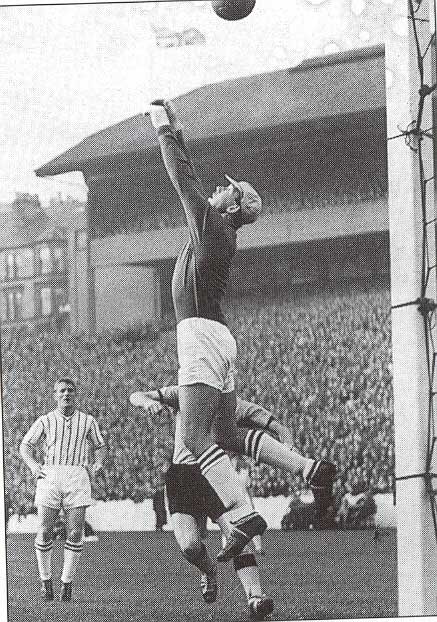 Marshall's unintentional generosity in presenting Third Lanark with a goal after only 2 minutes play, and the subsequent miserliness of Robertson in his dealings with Young and company brought unexpected excitement to an occasion that otherwise would have produced the kind of leisurely entertainment associated with Hearts' stylish demolition of Partick Thistle in last season's final.
FLIMSY ENOUGH
Hearts were one goal down for almost two-thirds of the game and even at the end their lead was still flimsy enough to be cancelled by one more Marshall blunder.

In fairness, of course, it must be admitted that Third Lanark rarely gave the goalkeeper any opportunity to make a second mistake.

Yet it is impossible to avoid being troubled by the thought that Hearts failed to translate their superiority into figures.
The incredible accomplishments of Robertson, whose agility was made more spectacular by the fact that he stands only five and a half feet, do not offer sufficient explanation.

In previewing the match I made the rash suggestion that Robertson might not compare too well with Marshall.

At the same time, I asserted that Crawford and Blackwood lacked the quality required to make ideal inside forwards for Young, and, unfortunately for Hearts, that judgement turned out to be much more accurate.

When Hearts had the opposition under relentless assault it was the absence of know-how at inside forward that prevented the prompt completion of Third Lanark's destruction.
AUXILIARY CENTRES
Crawford and Blackwood, who are fast and hard hitting, are inclined to serve as auxiliary centres rather than as the tacticians of the forward line.

Against a Third Lanark defence that combined courage with workmanlike covering and quick tackling, their opportunities of exploiting speed and hitting power were restricted.
Had they shown greater flexibility and imagination, the ultimate result would have been a truer guide to the relative merits of the two teams involved.

As it was, Hearts' full-time players confirmed that they are the best trained and generally the most efficient footballing unit operating in Scotland at the moment.

They are probably more conscious than any other Scottish side of the fundamental importance of team play, and that awareness was clearly marked at Hampden.
Even in a victory thus achieved, however, there must be particular heroes and none was more outstanding than Cumming, whose transfer to centre-half neatly illustrated the known truth that he is one of our few fully-equipped players.

He was especially well supported by Thomson, Bowman and Higgins, who was apparently unaffected by sudden promotion from reserve league football to a Cup final.
HIGGINS' SUCCESS
Higgins' early success contrasted with the experience of Smith, who was collecting the first cup-winner's medal of his distinguished career.

Smith had the satisfaction of making a notable contribution towards the winning of the medal.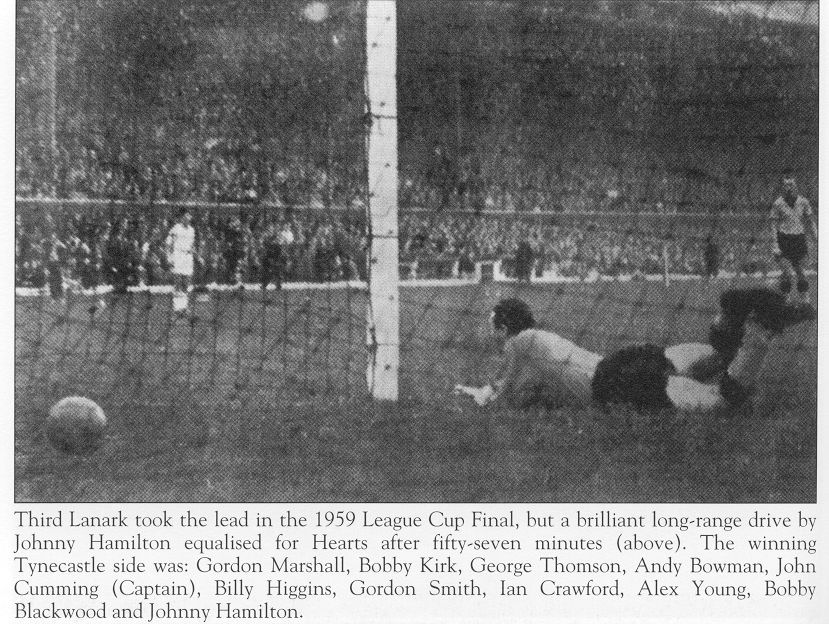 Hamilton and Young scored Hearts goals in the 57th and 59th minutes respectively.

Hamilton's came from a basically simple shot, which was made slightly unorthodox and very effective because it was released from almost 25-yard range when practically everyone in the ground was anticipating a pass.

A deflection complicated Robertson's task and he could not stop the ball from flying low inside his left-hand post.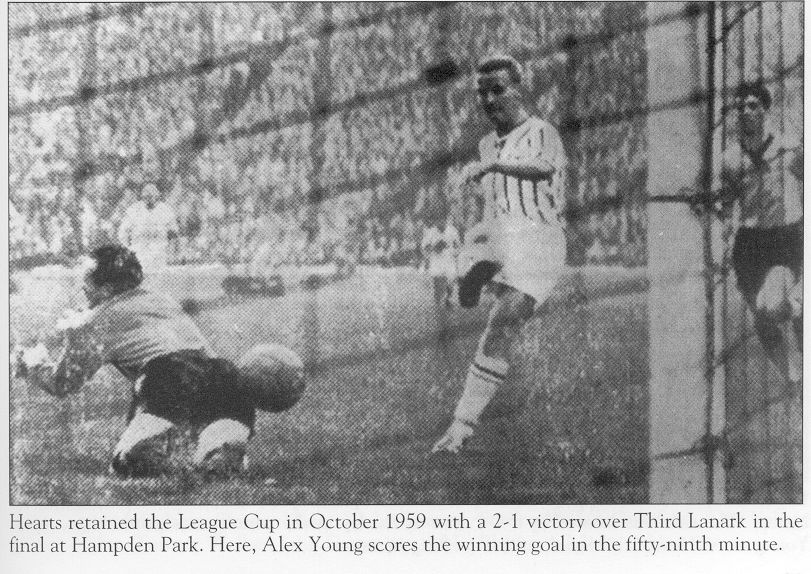 Young's goal - a carefully-directed drive from eight yards after he had out-manoeuvred McCallum - was the reward for a display of intelligent leadership.
Inevitably, honours in the Third Lanark team went to defenders.

There was not a failure between goal and left-half and Robertson, Lewis and McCallum were superb.

The forwards were toiling hopelessly throughout most of the match, with only the eccentric trickery of McInnes to produce an occasional flutter of hope.
NOT ENOUGH
Appropriately it was the winger who steered the high cross that glided down out of the sun and scraped over Marshall's fingers for the goal which made the game a contest.

Gray was at hand to prod the ball into the net but it was McInnes' lob that drew Marshall out of position and left him helpless.
That goal was not enough to bring Third Lanark a reprieve but it did gain them a stay of execution.
TEAMS
Heart of Midlothian - Marshall; Kirk and Thomson; Bowman, Cumming and Higgins; Smith, Crawford, Young, Blackwood and Hamilton.
Third Lanark - Robertson; Lewis and Brown; Reilly, McCallum and Cunningham; McInnes, Craig, Hilley (D.), Gray and Hilley (I.).
Referee - T.

Wharton (Glasgow)